REMEMBER THIS LOGO?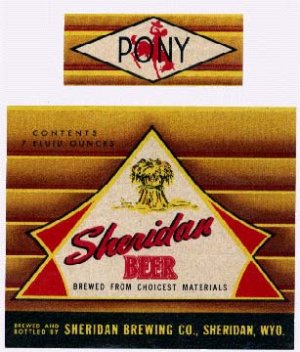 THE SHERIDAN BREWING COMPANY
Malcolm Hutton, Sheridan, Wyoming, class of 47

The first beer I ever tasted was Sheridan Export. I was a junior in Sheridan High School and around 17 years old. Age didn't matter any more then than it does now. Export was 20 cents a bottle and the other beers were 25 cents so it was the beer of choice. Ironically, by the time I was old enough to drink beer legally, the Brewery was almost out of business.

THE SHERIDAN BREWING COMPANY started in business in 1887 and in 1889 they nearly burned the thing down. Everyone in Sheridan turned out. They had a bucket brigade from Goose Creek to save what they could. Names associated with the brewery are Gothard Paul, Peter Demple, Arnold Tschirgi, Joe Heisler, Fred and Henry Schroeder, Jack Ferren (my informant), R A Keenan, Alan and Robert Rogers, Louie Paul, Charles Haltenhoff, John Dreher, and Lyle Austin.

November 29, 1918, PROHIBITION shut down the brewery and they made near beer called ASherex@ and handled soft drinks, candy, and tobacco. In 1921 they got a Coca Cola franchise. In 1933 prohibition was repealed and the brewery sold the first bottle of beer on June15, 1933. The business grew with leaps and bounds until 1953 when they came out with a great new product, pop in flat top cans, first in the United States. Can-O-Pop was destined to be a world shaker, beer was discontinued and the new business was exciting for them and for Sheridan. But something happened, they expanded too fast, they were under advertised, under financed, and went broke. Around 1954 everything was sold and in 1990 the City of Sheridan tore down the building.

I have saved a bottle and a can and a wooden keg and a few old boxes. I never could find one of those big signs that used to hang on the fences around the state.

Ann Alsup wrote: My Dad used to drink Sheridan Export Beer.I have a SEB tray and a couple of glasses and Roy Woofter begs me to sell them to him but I won't.

Ron Arnold wrote: I remember the Sheridan Export. Drank my share of it and still have an empty can as a souvenir.

This is the Sheridan Brewing Company, 1910, capacity: twenty thousand barrels annually.